Description
Interactive Monitor 86″ SMA X Series touchscreen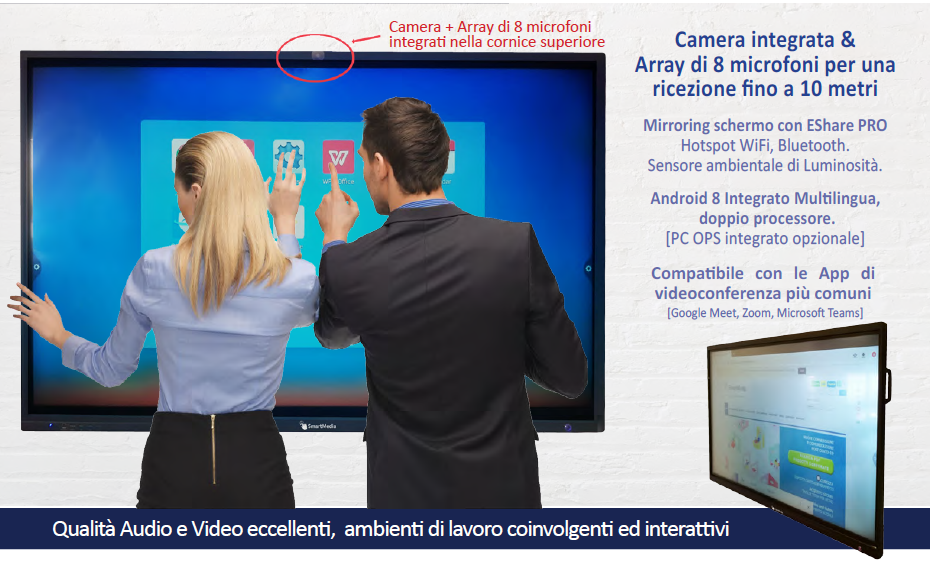 The SmartMedia SMA X series touchscreen whiteboard monitors are interactive displays with surprising characteristics in terms of technology, touch response speed and advanced Video Audio system.
A perfect vision of images and videos thanks to the 4K resolution, excellent brightness, double processor on integrated Android 8 system and expandable memory, which make the device adaptable in many situations.
The camera and the set of 8 omnidirectional microphones integrated in the frame of the Monitor with the function of noise reduction and echo cancellation, allow the management of audio at a distance of up to 10 meters with excellent audio results even in the presence of several people spaced apart.
40 contemporary touches allow you to work with multiple hands on complex projects with multiple file types and different formats, thanks to the numerous apps installed.
FEATURES:
16:9 LCD display with LED backlight
Uninterrupted natural writing Technology
Android 8.0 Multilanguage integrated with Dual Band WiFi
Environmental sensor for automatic brightness regulation
Screen mirroring with Eshare PRO
WiFi hotspot
MicroSD card reader for memory extension
Optional integrated PC OPS, available with i5 or i7 processor
Supplied software:
– SmartTouch for multimedia content management,
– SmartMedia IWB complete with videoconferencing plug-in,
– SmartMedia Pro for the management of devices in the room,
– SmartSignage for Digital Signage applications.
Excellent audio and video quality, engaging and interactive work environments
A surprising interactive system intended for both the Education and Corporate markets, for the development of collaborative environments and for video-conferences in the classroom or in the meeting room.
Accurate and fluent tactile and writing experience with fingers or pen for touch screen, supported by differentiated touch functions and automatic recognition between pen, finger and palm of the hand with consequent automatic activation of writing, selector, eraser.
Wide choice of pre-installed apps for: sharing screens of different devices via Wifi and LAN, access and management of the most popular file formats, annotations and drawings, surfing the web, videoconferencing.
The monitor can be optionally equipped with an integrated PC Intel Core i5 (code PCBOX-I5F) or Intel Core i7 (code PCBOX-I7F).

Detailed technical sheet     Monitor SmartMedia SMA series X
Product video